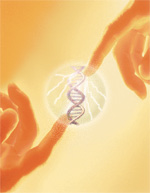 FaithSearch Origins
Making Sense of Creation & Evolution
With all the fuss over what should and shouldn't be taught in schools, and with politicians weighing in on all levels, FaithSearch Origins is a must see presentation. Ph.D. biologist Don Bierle uses current scientific evidence to unravel creation, evolution and the meaning of life. His lively and enlightening presentation strips off the hype and takes a scientific approach to the evidence.
Dr. Bierle's emphasis on the powerful concept of Intelligent Design will unite rather than divide people on this controversial subject. Stimulating and challenging, FaithSearch Origins is ideal for students, teachers, pastors and parents. The text for the event is available for purchase online. Topics include:
The Origin of Life
The Origin of Major Life Groups
The Philosophical Roots of Evolution
Intelligent Design
A Biblical and Scientific Case for Creation
Estimating the Age of the Earth
Evidence for the Creator
Making Sense of Creation & Evolution

The text for FaithSearch Origins is both a companion piece to the Making Sense of Creation & Evolution presentation, and a useful stand-alone reference.
FaithSearch Origins DVD

A two-hour DVD capturing Dr. Don Bierle's popular presentation of Making Sense of Creation & Evolution.