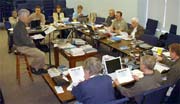 Teacher Training
Since 1979, FaithSearch International has been "proclaiming the Gospel with evidence" through FaithSearch. Now, YOU can learn to be a presenter of FaithSearch Discovery, too. Headquartered in Minnetonka, MN, in the U.S.A., FaithSearch offers training and resources to equip faithful people to call others to new life in Jesus Christ using FaithSearch.
Individuals desiring to use FaithSearch in their ministries—both the FaithSearch publications and resources, as well as the same FaithSearch presentation used by our evangelists—will receive in-depth instruction and guidance from our evangelists. Dr. Don Bierle, author of Surprised by Faith and creator of the FaithSearch presentation, and others, conduct hands-on sessions in installing, utilizing, adapting and understanding these powerful ministry tools.
Training is offered at various times throughout the year, quarterly at the offices of FaithSearch in Minnetonka, and occassionally at selected locations throughout the U.S.A. Training is also offered in India, and programs are currently being offered in Russia and Latin America as well. Details about the training are available here. The $100 cost includes a full day of training by a FaithSearch evangelist, plus ministry resources worth over $187. Contact FaithSearch to register, or register online at the FaithSearch Center Web site.
The FaithSearch Center is the networking and communication hub of FaithSearch International. Its Web site provides support, facilitation and updated resources to those who have taken the training. More information about the FaithSearch Center is available at www.faithsearchcenter.net.
FaithSearch Discovery sets the record straight by presenting an inspiring, breathtakingly logical case for believing in the historical person of Jesus Christ. Be prepared to discern truth from deception regarding the New Testament. As a consequence, FaithSearch Discovery provides satisfying answers to life's important questions.
Why Am I Here?
Is the Bible True?
Is Jesus Really God?
Can Faith Be Reasonable?
How Can I Know God?
Teacher Training Curriculum

The Teacher Training Curriculum includes samples of our publications, and a full day of instruction in using time-tested FaithSearch resources for evidence-based ministry.
Study Class Package

The Study Class Package is for those who want to to dig deeper, with more Bible study, personal application and answers to related questions. Includes ten copies of Surprised by Faith and the Study and Discussion Guide.
Presentation Package

The Presentation Package enables you to conduct FaithSearch Discovery in a seminar format, such as an adult education class or large group gathering. Includes ten copies each of Surprised by Faith and the Participant Guide.