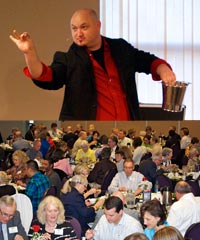 Hear Dr. Bierle's
radio interview
about evidence for the Easter events and their impact.
2013 Benefit Dinner
Over 150 Friends of FaithSearch gathered at Grace Church in Eden Prairie, on April 27, for the annual event to benefit the ministry.
Thanks to all who shared the evening of fellowship, entertainment, and encouragement with us. Those unable to attend can participate by making an online donation. A full report will be available soon.

News & Reports

The Gospel with Evidence in
Russia
Oleg Voskresensky reported on his November-December ministry trip to Russia. Read his exciting report.