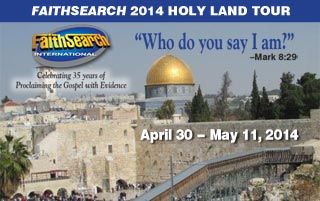 2014 Israel Tour
We are excited to invite you to join Dr. Don Bierle for our first "field trip" to Israel, April 30–May 11, 2014. The Bible will come alive anew as we examine the evidence in person! We will walk where Jesus walked as we address His question—which still echoes today: "Who do you say I am?"
Read the brochure for full details. Complete and mail the registration form to secure your spot today.

News & Reports

The Gospel with Evidence in
Russia
Oleg Voskresensky reported on his November-December ministry trip to Russia. Read his exciting report.